Clarina Equestrian Centre
A top class Irish equestrian centre established in 1979, offering horse riding lessons and trekking in the beautiful Limerick Countryside.
Clarina Equestrian Centre is an  A.I.R.E. approved establishment based in the beautiful countryside of Clarina, Co. Limerick. This family run centre has earned a reputation of excellence from its beginnings in 1979 to the present day.
Our Facilities include indoor arena 20m x 40m, an outdoor sand area 20m x 40m & cross country course.
The centre is conveniently located just 10 minutes drive from Limerick city centre and 25 minutes drive from Shannon airport, miss the city traffic and take the tunnel, we are located just 5 minutes from the Shannon tunnel on the Limerick side. Clarina is a great place to learn to ride, in a relaxed, friendly and safe family run centre with expert tuition from qualified instructors with years of experience. All ages and levels of experience are catered for in both indoor and outdoor facilities.
Trekking is offered in the beautiful Limerick countryside visiting historical sites such as Carrigogunnell Castle ruins,with its breath taking views of the Shannon Estuary.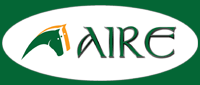 AIRE (Pronounced 'ARA') is the Association of Irish Riding Establishments, the body that regulates standards at riding schools and equestrian centres in Ireland.