Children's Lessons
We cater for children at all levels from complete beginners up to competition level. At Clarina Equestrian Centre children learn under careful supervision from A.I.R.E. approved instructors with invaluable years of experience. Our indoor arena provides the ideal, safe environment for beginners.  Private lessons may also be arranged by special appointment. Groups and birthday parties are also catered for.  Individual children's needs are taken into account and suitable mounts are carefully selected. Lessons are kept small to allow instructors provide high quality tuition to all riders. Horse and rider are carefully matched to accommodate the riders ability.
Please note, a registration/waiver form must be completed by parents/guardian prior to children's first lesson.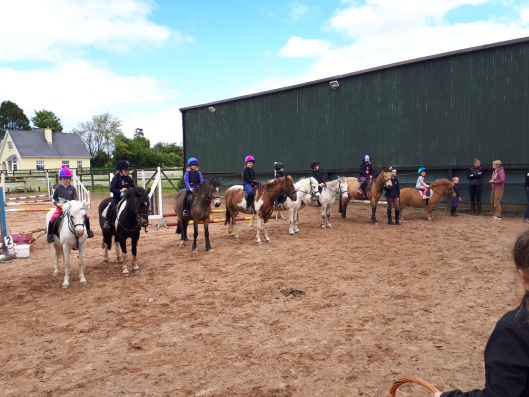 Adult Lessons
Adults are catered for from beginner to advanced. Remember its never too late to learn! Looking for a new hobby? Why not give it a go! Have fun and get fit at the same time! Horse riding is a great form of exercise which improves balance and coordination.  Looking to improve on certain aspects of your riding? Clarina can accommodate your needs. Receive expert tuition in Jumping, dressage and cross country from our highly qualified instructors.
Group, private and lunge lessons are all available. Our indoor arena provides a safe environment to learn under close supervision.
A compulsory registration form must be completed before your first lesson.
It's your first lesson, what do you wear?
It's not necessary to buy all the equipment for your first lesson you can wait and see if you will stick with it before spending a lot of money. However for safety purposes you must wear the following:
an approved helmet (we have a selection of hats that can be borrowed for the lesson) Click to download Equestrian Hats Standards
comfortable clothing such as leggings or tracksuit pants
boots with a flat sole and a square heel
No hoods, drawstrings, scarves or anything that may get tangled or impede your natural movements. Coats or jackets must be fastened properly and not flapping about.